Book a room in the Student House
To start your reservation, fill the form below. Note!: If you wish to throw a party in the Student house, please contact us on our mail: kontakt@studenterhusetruc.dk before you book for further details.
First off, you will receive an e-mail with the information that you entered. Afterwards, you will receive a new e-mail that says whether or not the reservation is accepted.
All reservations will be handled personally, and as a starting point from the principle of "first come, first served". It will always be The Student House of RUC who has the final word.
OBS: the bookning will be processed within a week. Therefore, book in good time.
Also please remember to take good care of our student house. Clean up after yourselves and if anything breaks contact the Student House Board so we can fix it.
Group Rooms:
The group rooms are for students to work on your studies and project work.
Conference Room:
The conference room are for bigger meetings and not project writing. This room can be locked by a study card. Contact the board if you can't access it.
The Kitchen:
The kitchen is where you can make food. When you are done with it, clean up after yourself please! Remember if you are eating upstairs in the kitchen also book the Yellow Room.
Yellow Room:
The yellow room is where you can eat, social gatherings and work on your studies in large groups. Just remember to clean up after yourself please!
Library:
The library is for social gatherings.
Lounge:
The lounge is a place to relax.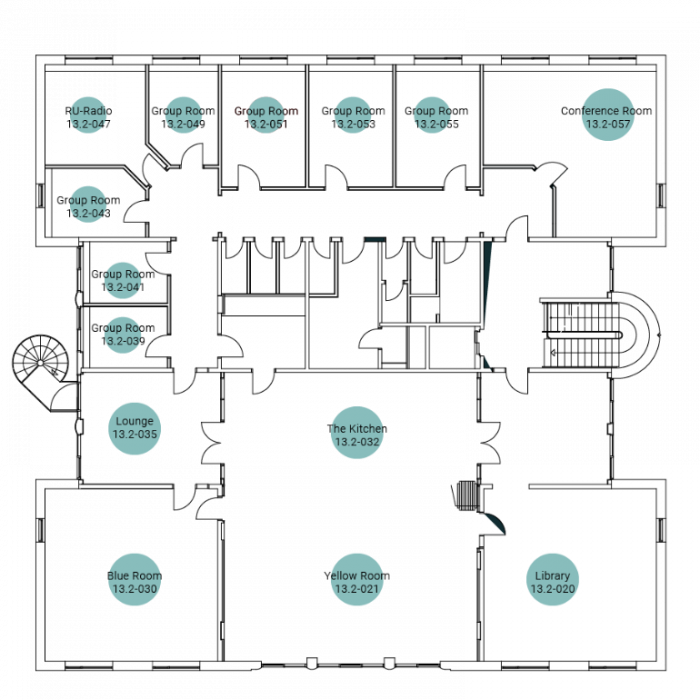 * Must be filled out
** Renting the Grill does not include coals or starting bricks.